The world of manga is such a big field to participate in, and most manga in the world are written by women.
A lot of artwork and illustrations of certain popular anime come from women. Their work is amazing and they deserve all the credit and respect for it.
Some manga writers rather decide to stay anonymous like Koyoharu Gotōge, the creator of Demon Slayer.
Female manga writers are important for the manga world and their culture.
To clarify, women have different types of perspectives, fantasy, attention to detail, and so on.
Some fans think that female manga writers emphasize more on girls more in their artwork. However, this is not true at all. To clarify some of the most popular anime characters come from the idea of a women. Edward Elric from Fullmetal Alchemist Brotherhood and Tsunayoshi Sawada from Katekyo Hitman Reborn are examples of that.
You can find the top 17 manga created by women here. Comment down below your favorite, let us know!
17. The Ancient Magus Bride By Kore Yamazaki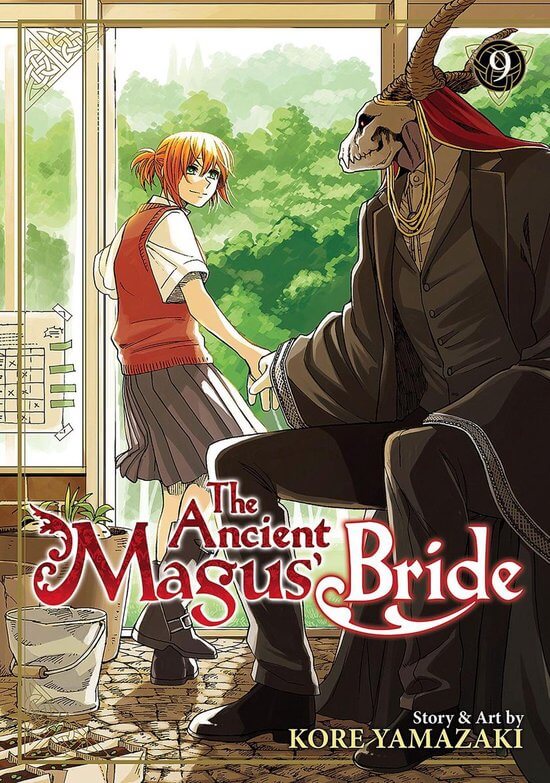 Kore Yamazaki is the writer and illustrator of The Ancient Magus' Bride manga. Kore Yamazaki was born in Hokkaido in 1990.
She was just 23 years old when her series was first serialized. To clarify, her manga got a place in Mag Garden's Monthly Comic Blade in 2013, a very impressive feat! The series eventually gets an anime adaption on September 10, 2016.
The Ancient Magus' Bride tells a story about a girl named Chise Hatori. She is a Japanese high school girl who is an orphan. She lives a life of abuse and does not receive any form of love and care.
A lot of things go wrong and destiny does not seem to be on her side. As Chise Hatori encounters trouble after trouble, and also some pitfalls.
Her life takes a different route when she participates in an auction. A gigantic demon-like British magus is the one who buys her, and her life changes completely. The events that happen during the series are the reason for the increasing popularity of Kore Yamazaki.
The chapters of the series are still ongoing, as Kore Yamazaki is responsible for the writing and illustrations. In addition, the anime series is also ongoing as the release date for the new season is September 9th, 2022.
16. To Your Eternity By Yoshitoki Ōima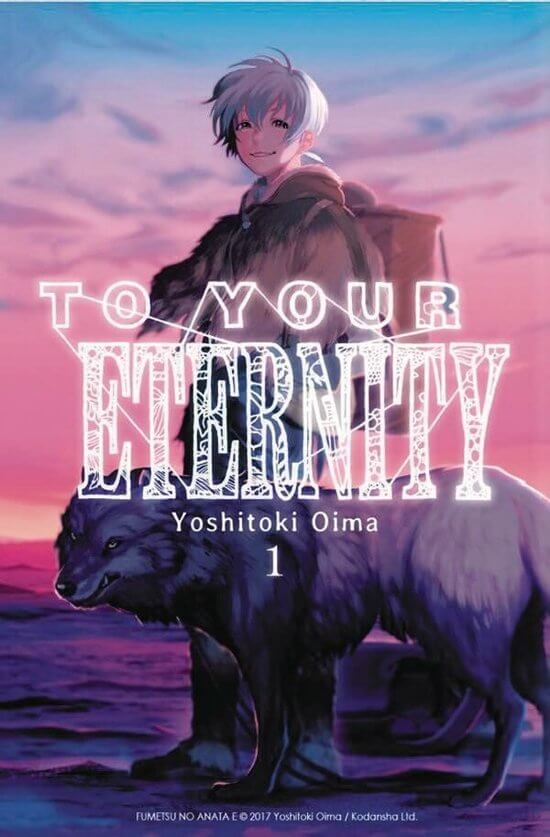 Yoshitoki Oima is a 33year old manga artist from Ōgaki, Japan. The To Your Eternity series are a big reason for its popularity. Oima writes the manga series since November 2016 and is ongoing to date.
The anime series started on April 12, 2021, till August 30, 2021. Season 2 of the To Your Eternity anime starts during Fall 2022. You can find the official teaser for season 2 down below.
The To Your Eternity series tells a story about an immortal being with the name Fushi. He is a being that can take on multiple forms of appearances. Fushi takes on the appearance of an abandoned white-haired village boy along with a white wolf.
Fushi goes on a journey to learn what it takes to be a true human being. Yoshitoki Oima does a great job of showing the power that our emotions have and how it creates different personalities.
Good and bad emotions are of course part of the package, True happiness is a loving feeling, but loneliness on the other hand is also a part of emotions but a very different experience.
15. A Silent Voice By Yoshitoki Ōima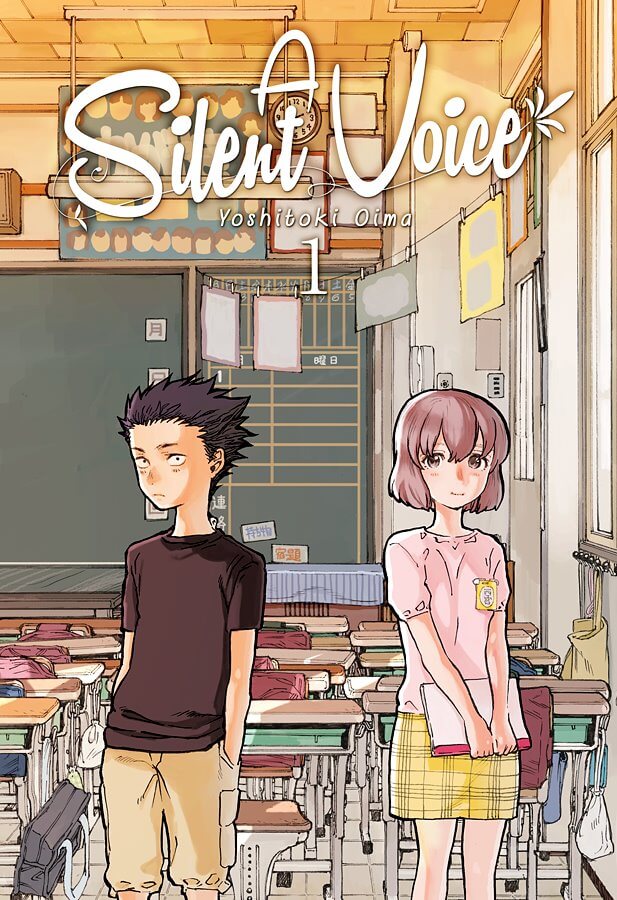 A Silent Voice, another great manga series written by Yoshitoki Ōima on August 7, 2013. The inspiration for writing the story comes from Yoshitoki Ōima's mother. The mother and sister of Yoshitoki Ōima also helped her to work on the series.
In 2015, Yoshitoki Ōima won the New Creator Prize with A Silent Voice. The series premiered as a movie on September 17, 2016. It quickly became one of the best anime films.
The series resolves around Shôko Nishimiya. He is a young man who gets shamed by his classmates because he bullies a deaf girl to the degree that the girl later passes away because of it. The main character seeks redemption for his actions 4 years later and goes on a journey. The main character Shôko Nishimiya suffers from impaired hearing.
14. Banana Fish By Akimi Yoshida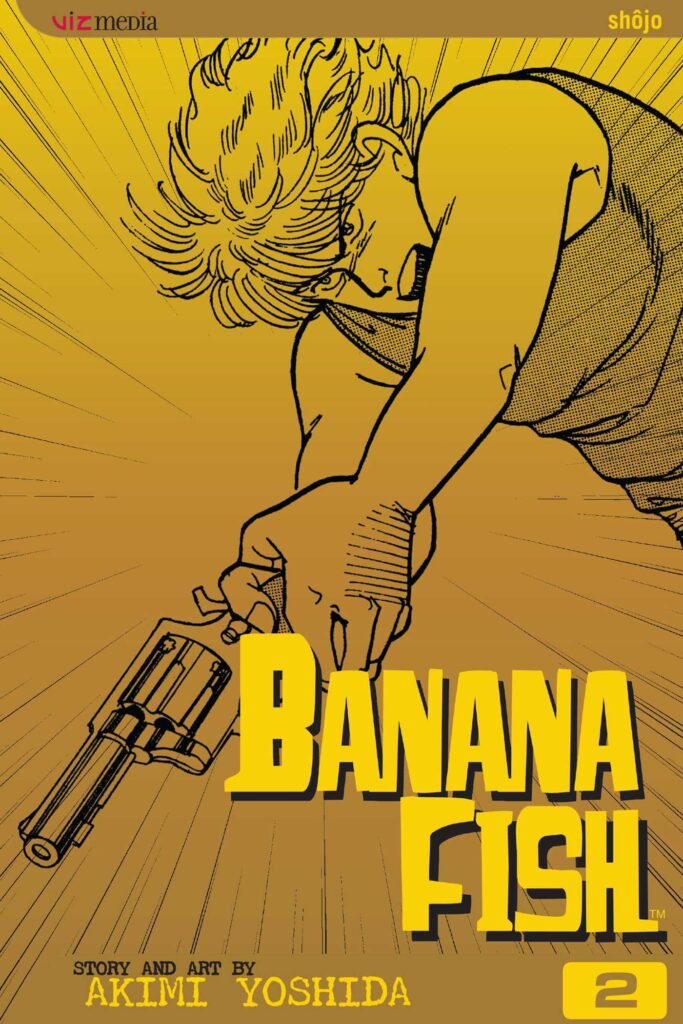 The Banana Fish manga was first published in 1985 and ended in 1994. A total of 19 volumes are available of the series and all were posted by Shogakukan.
The Banana Fish manga of Akimi Yoshida got an anime adaption that aired from July 5, 2018, until December 20, 2018. Studio MAPPA is responsible for the production of the anime series, and Hiroko Utsumi is the director of it.
Akimi Yoshida is the creator of Banana Fish. She is a Japanese manga artist born on August 12, 1956, and is a graduate of the Musashino Art University. She also has another very popular manga series 'Umimachi Diary'.
Banana Fish is a manga with a total of 19 volumes and the story is about Ash Lynx. He is a child who lives on the streets in NY city, he later gets noticed by an infamous mafia boss. The name of that man is Dino Dino Golzine, a so-called godfather of the mafia in New York. Ash Lynx becomes a mafia boss of his own group, they then start investigating Banana Fish.
Ash and his group later gather in a bar, where they get assaulted. Two members of his group, Skip and Eiji gets kidnapped by this mafia group, so now Ash Lynx must save them. Secondly, he also must continue his investigation of Banana Fish.
13. Fruits Basket By Natsuki Takaya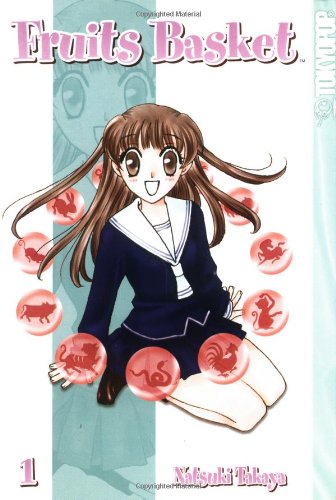 The writer and illustrator of Fruits Basket is Natsuki Takaya. The global popularity of this manga is huge, especially in Japan and the US.
Natsuki Takaya has sold over 18 million manga copies in Japan alone with Fruits Basket, and more than 30 million copies over the world in total. This surely shows that Fruits Basket is one of the best-selling shōjo manga of all time.
The Fruits Basket manga tells the story of Tohru Honda, she is the protagonist of the series. She is an orphan girl who receives care from the Sohma family. Tohru at age 13 learns that the Sohma family members are possessed by the animals of the Chinese zodiac.
The family turns into animals from the Chinese Zodiac when they are stressed, weak, or when they get hugged by someone of the opposite sex that is not possessed by a spirit of the zodiac.
The story progresses with Tohru that wants to cure the Sohma family of the curse. Secondly, she learns more about herself during this journey and about others who show they truly care for her.
12. The Promised Neverland By Kaiu Shirai
The Promised Neverland, written by Kaiu Shirai. The manga series was serialized from August 1, 2016, to June 15, 2020, in Shueisha's Weekly Shōnen Jump. An anime adaption started on January 11, 2019, 2 seasons are now available to watch on Crunchyroll.
The Promised Neverland story starts with 3 gifted kids: Emma, Ray, and Norman. They live in an isolated idyllic orphanage called Grace Field House with 37 other orphans. Enma and her friends are really smart, as they are at the top of the class in the regular exams.
However, this is not your typical normal orphanage. Enma, Ray, and Norman later discover the horrible truth about the orphanage and want to escape immediately along with the other children.
Outside of the orphanage is a wall that separates the Grace Field House from the real world. Their pursuit of freedom and safety is something you have to see!
11. Sailor Moon By Naoko Takeuchi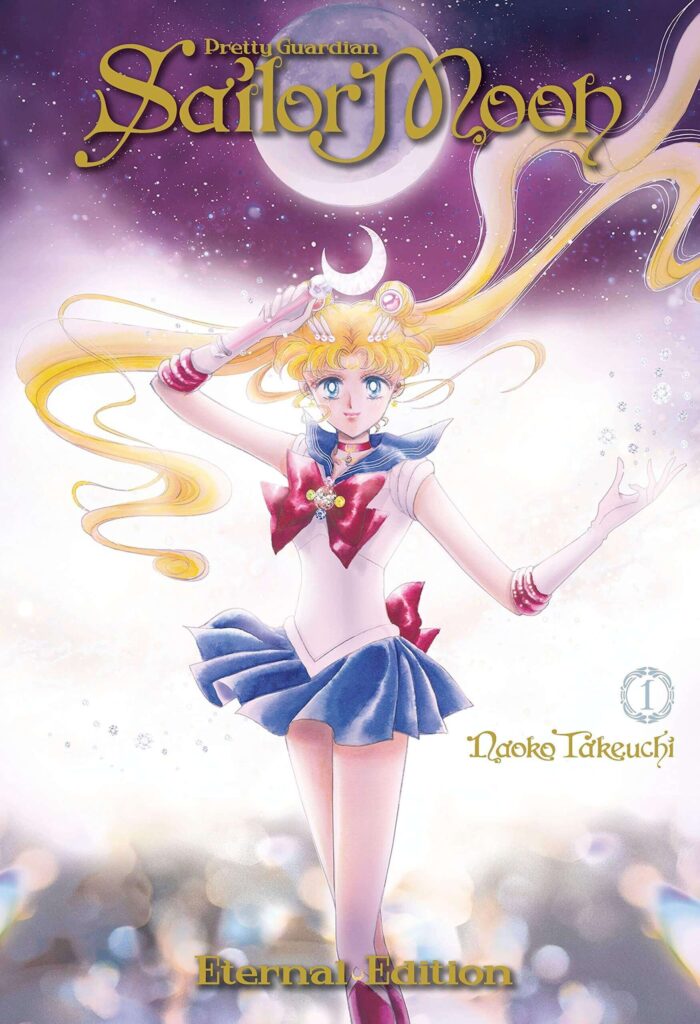 A manga known all over the world since the 1990s. The writer and illustrator of Sailor Moon isNaoko Takeuchi. The manga series aired from December 28, 1991, until February 3, 1997. This is one of the top-selling shōjo manga series, with a total of 35 million manga copies sold worldwide.
The protagonist of the Sailor Moon series is Usagi Tsukino. You see her start her journey as a hero Sailor Moon, along with the help of a cat called Luna. The job of a Sailor Moon Soldier is to protect the Earth against threatening foes. Usagi Tsukino also awakens other Sailor Soldiers and they fight together to defend Earth.
The popularity of this manga also comes from its unique art style, bonds of friendship in the story, and LBGTQ+ support and representation. There was no other manga that so openly supports the LGBTQ+ community, a very unique feat.
Their English opening song for the anime is one of the most popular on Youtube.
10. Beastars By Paru Itagaki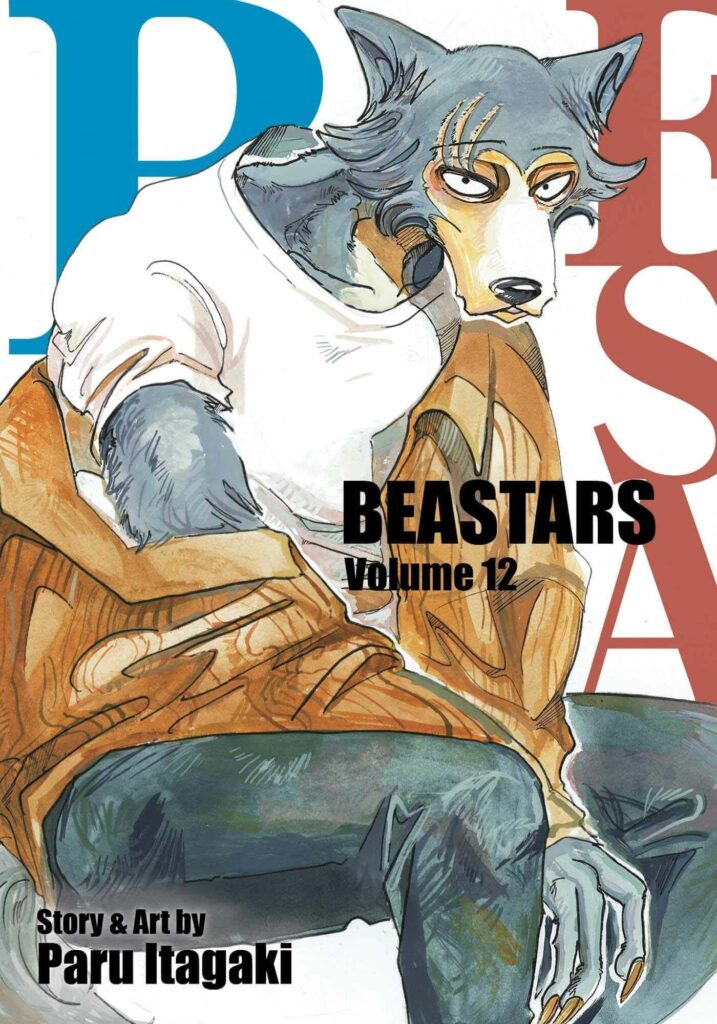 Paru Itagaki is the writer and illustrator of the Beastars romance/slice of life manga. She is a 28 year- old Japanese manga artist and has won 4 awards with the Beastars manga. The series got serialized from September 8, 2016, to October 8, 2020.
The story takes place in a world full of anthropomorphic animals, where there is a cultural difference between herbivores and carnivores.
The protagonist is the wold Legoshi, who is a student at the Cherryton Academy. He has a very big posture but also an introverted personality. He is rather shy around others.
There is a lot of tension between the herbivores and carnivores after the murder of student Tem, who is a herbivore. The wolf Legoshi then tries to find the perpetrator.
*Explanation* an herbivore is an organism that mostly feeds on plants and does not eat other animals. A carnivore is an organism that mostly eats meat from other animals, so they do eat other animals.
9. Black Butler By Yana Toboso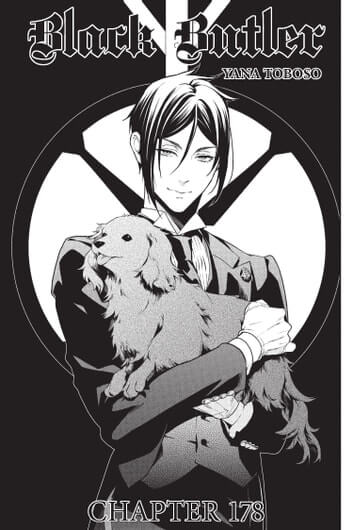 Black Butler is a Dark comedy/fantasy and supernatural manga written and illustrated by Yana Toboso. She is a manga artist whose identity remains unknown because of her timid and nervous nature. There are no known pictures or documents of her to this date.
The Black Butler manga got serialized on September 16, 2006, and it is still ongoing. There is also a 3 part anime series, a live-action film, and an animated movie. The protagonist of the series is Ciel Phantomhive, he is the 13-year-old head of the Phantomhive family.
He becomes the head of the family after his parents get murdered by someone in the underworld of Victorian London. Ciel seeks revenge against the murderers responsible for his parent's death.
Ciel then forms a contract with Sebastian Michaelis, who uses a disguise of a regular butler, when he is a demon. This is where the name of the manga Black Butles comes from.
Although you experience a lot of dark stuff, the story has quite a lot of humor in it
8. Katekyo Hitman Reborn! By Akira Amano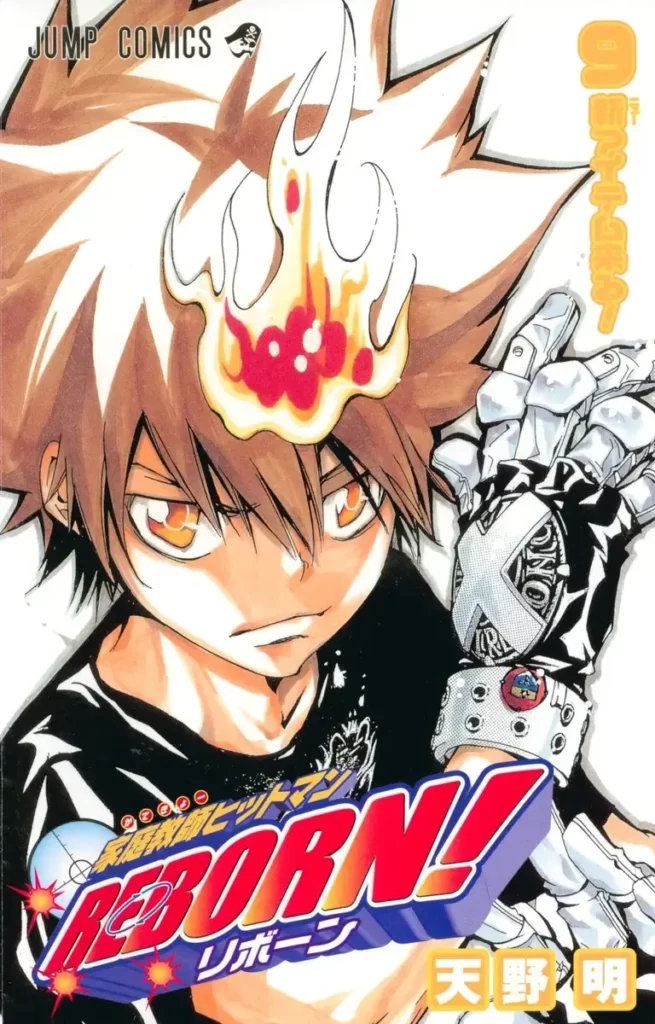 Katekyo Hitman Reborn is written and illustrated by mangaka Akira Amano. This is one of the most popular shōnen manga of the 2000s. The manga series got serialized from May 31, 2004 – November 12, 2012. In addition, the final volume (42nd) got released the next year in March 2013.
The protagonist of Katekyo Hitman Reborn is Tsunayoshi Sawada. He is a normal teenage boy who is known by others for being a loser and stupid. This changes after Tsuuna meets Reborn, who is a very skilled hitman that has the appearance of a baby. He is sent by the Vongola family, a very powerful Mafia organization.
Tsuna then learns that he is the possible successor to become the next boss of the Vongola family. Something that doesn't fit his personality at all. That is why it becomes so hard for him to suddenly become a completely different person.
Reborn, later on, becomes the personal guardian of Tsuna, as he tries to train him to become the Tenth Boss of a Mafia Famiglia known as Vongola Famiglia.
7. Inuyasha By Rumiko Takahashi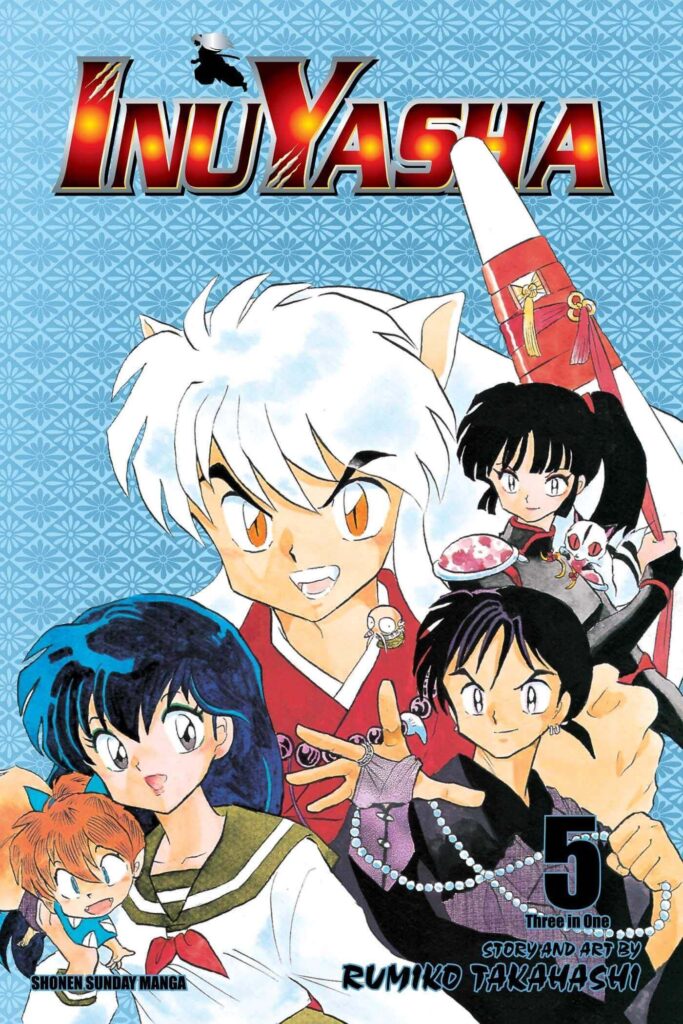 Meet female manga artist Rumiko Takahashi, responsible for the writing and illustration for Inuyasha. She is one of Japan's well-known mangaka, and also one of the wealthiest. The manga series of Inuyasha was serialized from November 13, 1996, till June 18, 2008. Secondly, Inuyasha also has two anime seasons, film, video games, a light novel, and a live-action stage play.
The main character of Inuyasha is Inuyasha, similar to Naruto (Shippuden) where the protagonist is Naruto. However, here is a small sample size of the story. Inuyasha is a manga about a dog half-demon named Inuyasha ( Inu means dog). He seeks The Jewel of Four Souls, this jewel holds insane power.
This jewel is not something easy for the taking, it's protected by a sacred priestess named Kikyo. Inuyasha isn't the only one after the jewel, and it is not an easy task.
So he goes on this journey with his friends who each have different fighting abilities. They want to accomplish this goal before the jewel falls into the wrong hands.
6. Noragami By Adachitoka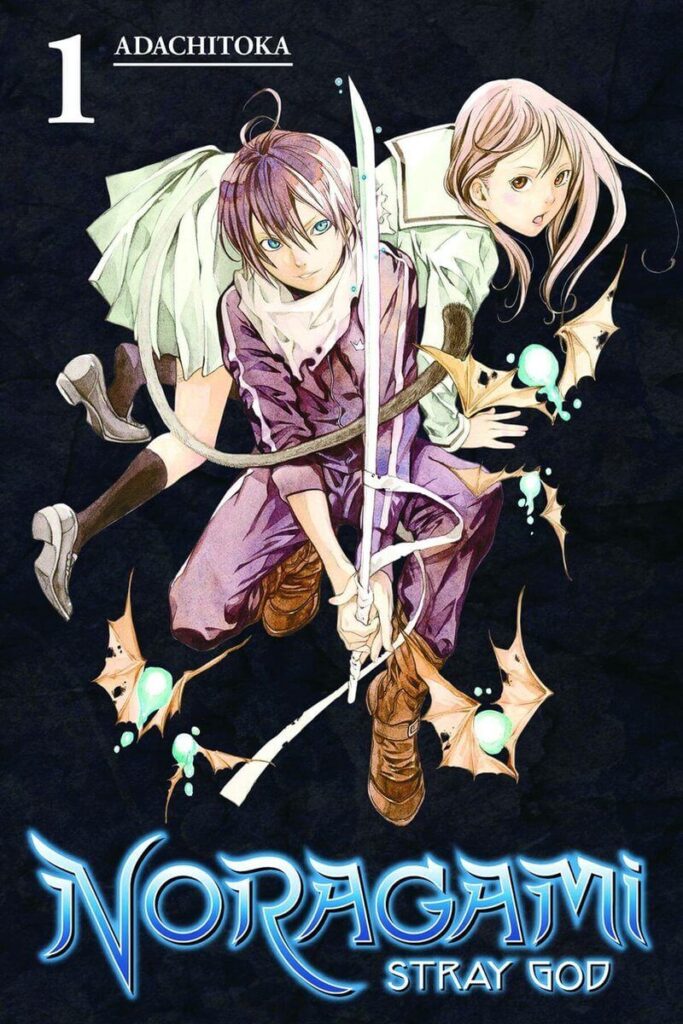 Noragami is an ongoing manga written and illustrated by Adachi and Tokashiki. The manga got published on December 6, 2010, in the Monthly Shōnen Magazine and has a total of 24 volumes and is ongoing to this date. Noragami also has an anime series adaptation with two seasons.
Season one aired from January 5, 2014, until March 23, 2014, with a total of twelve episodes. Further, season 2 aired from October 2, 2015, to December 25, 2015, with a total of thirteen episodes.
Noragami has three main protagonists: Hiyori Iki, Yato, and Yukine. Hiyori is a regular schoolgirl whose soul regularly starts slipping outside her body. She then meets Yato the God of Calamity, who can exterminate phantoms ( lost souls).
They later meet Yukine, a teenage boy who is a blessed vessel. He serves as the divine vessel of Yato, to fight against phantoms. The trio seeks to obtain the things they've lost in the past. But they have to endure their pasts along the way, along with other phantoms that stand in their way.
5. Deadman Wonderland By Jinsei Kataoka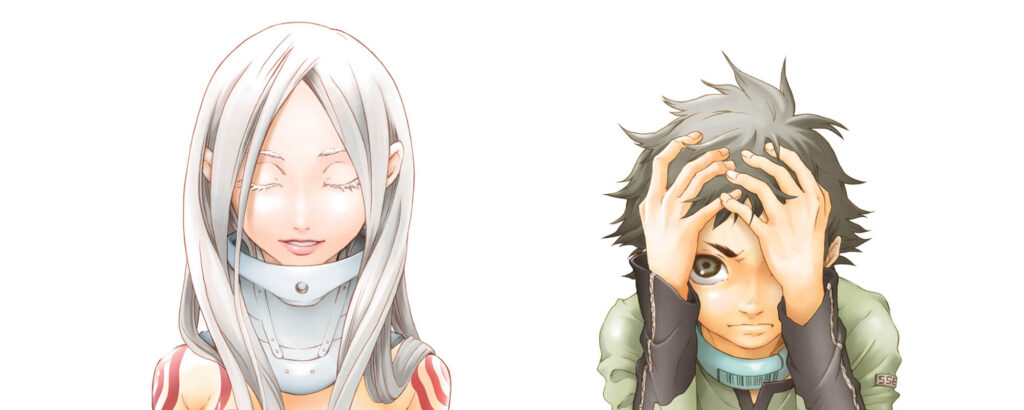 The female writer of the Deadman Wonderland manga is Jinsei Kataoka. The illustrator of the series is Kazuma Kondō. Deadman Wonderland has a total of 58 chapters and 13 volumes, the manga begin in 2007 till 2013. There is also an anime adaptation of Deadman Wonderland with a total of 12 episodes that aired from April 17 to July 3, 2011. 
Deadman Wonderland is a Shōnen manga about Ganta Igarashi, he gets falsely accused of a massacre on his classmates.
He then gets convicted to execution, this takes place at the Deadman Wonderland prison. The Deadman Wonderland prison is not your typical prison, this is a "theme park" where the prisoners have to fight to the death.
Secondly, most of the prisoners have superpowers that they can kill others with. This superpower is the Branch of Sin, an ability that allows the user to control and move their blood. For example, you can create scythe-like blades from any part of your body and even create blood spheres that you can detonate at will. Igarashi Ganta seeks freedom and wants to learn every mystery about the Deadman Wonderland prison.
4. D.Gray-Man By Katsura Hoshino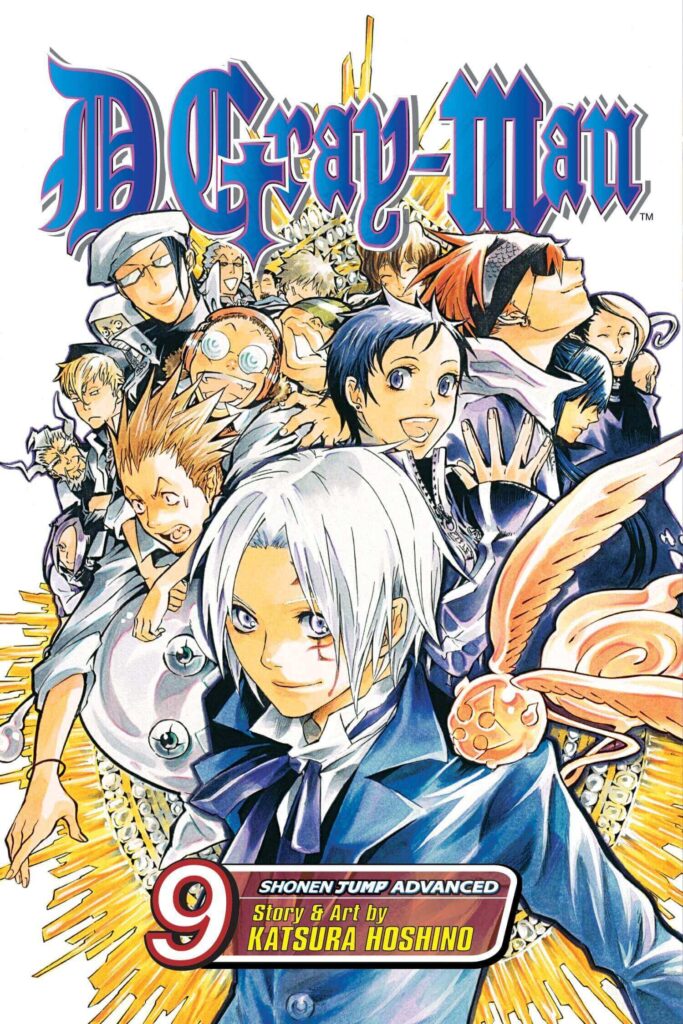 The writer and illustrator of D.Gray-man is Katsura Hoshino, a female manga artist. She won the prize for Best Manga Series in 2006. D.Gray-man is a manga that started in 2004 and is an adventurous series that combines fantasy and sci-fi.
There is also an anime adaption, that differs a bit from the original story. The D.Gray-man anime began airing on October 3, 2006, until September 30, 2008. Season one has 51 episodes and season 2 has 52 episodes, overall a total of 103 episodes.
The D.Gray-man story is about the protagonist Allen Walker, who is a young boy who joins the Black Order. They are an organization of exorcists. The Black Order uses "Innocence" which is an ancient substance that the exorcists use to battle.
They use this to fight against the Millennium Earl, a man who also has a demonic army that wants to destroy humanity. Allen Walker and the exorcists of the Black Order fight together to stop these evil wrongdoings.
3. Magi: The Labyrinth Of Magic By Shinobu Ohtaka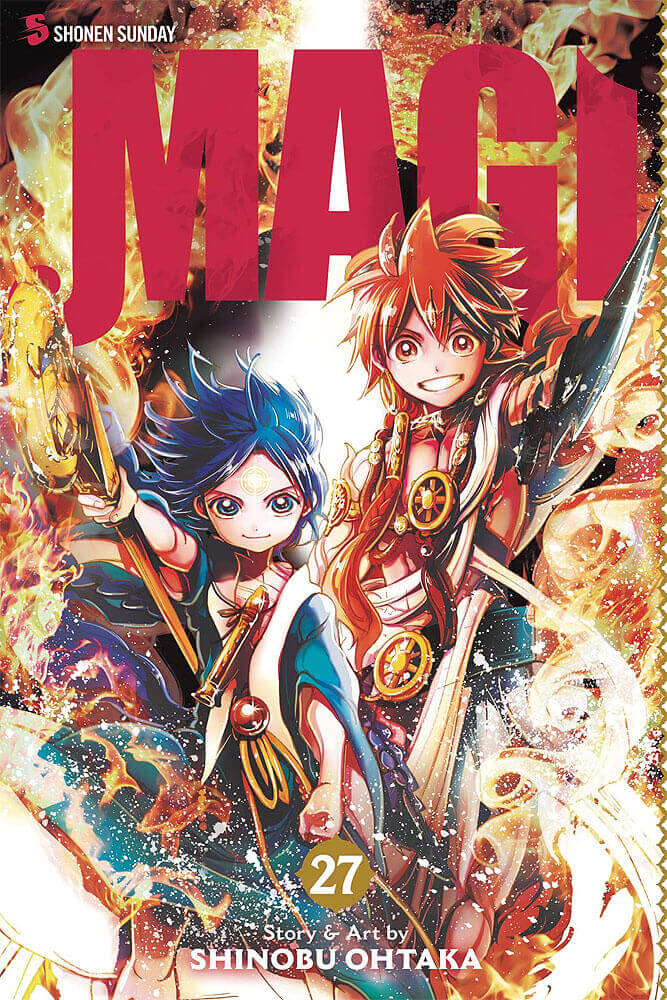 The writer and illustrator of Magi: The Labyrinth Of Magic is Shinobu Ohtaka. The manga series has sold over 25 million copies worldwide. Magi: The Labyrinth Of Magic also has an anime adaption divided into two seasons.
Season 1 has twelve episodes and season 2 has thirteen episodes, a total of 25 episodes. Further, Magi: The Labyrinth Of Magic also has a videogame and a movie centered around Sinbad.
The inspiration for Magi: The Labyrinth Of Magic comes from the multiple historic stories of One Thousand and One Arabian Nights. This is why the main characters of the series Alibaba, Alladin, and Sinbad share the same names as the ones mentioned above.
Magi takes you on a trip to ancient times with Alibaba and Alladin. Alibaba has big desires and wants to conquer the world. He has to clear some dungeons first because there lie valuable treasures and magic tools.
He is not the only one who enters these dungeons, as they are really dangerous but the treasures there are worth the risk. His journey comes with a lot of unsolved mysteries along the way, including the secret behind the dungeons
2. Blue Exorcist By Kazue Kato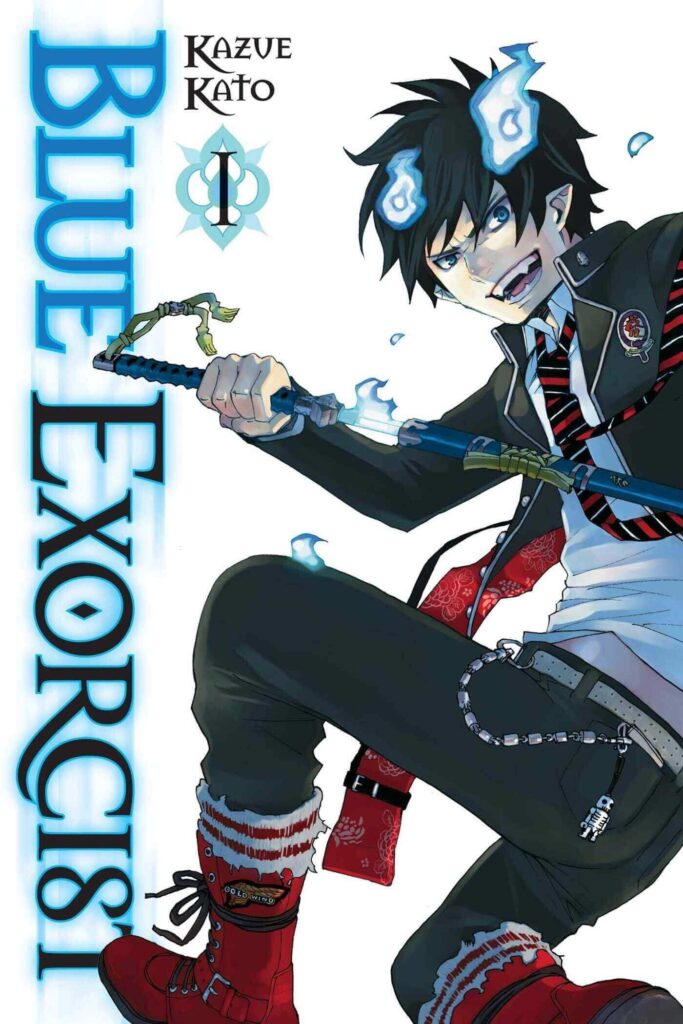 The writer and illustrator of the dark fantasy manga Blue Exorcist is Kazue Kato. The first publish of the series was on August 4, 2008, and the manga is still ongoing.
There is also a two season anime adaption of Blue Exorcist. Season 1 started on November 27, 2010 until October 2, 2011 with a total of 12 episodes. Season 2 aired from January 7 till March 24, 2017 and also has a total of 12 episodes.
The protagonist of Blue Exorcist is Rin Okumura. The story resolves mostly around Rin and also his younger twin brother Yukio Okumura. The father of them Shiro Fujimoto is an exorcist and he raises them. Shiro one day finds out that his sons are the sons of Satan, and demons come to Earth to hunt them down.
They then enter the True Cross Academy to train, and to understand more about demons. Rin and Yuki want to become strong exorcistst to defeat other demons and Satan.
Rin uses the demon-slaying sword Kurikara to fight, and Yuki uses a special gun to exterminate demons. They both aspire to become a great Exorcist and their classmates help them on the way and also become great friends.
1. Fullmetal Alchemist By Hiromu Arakawa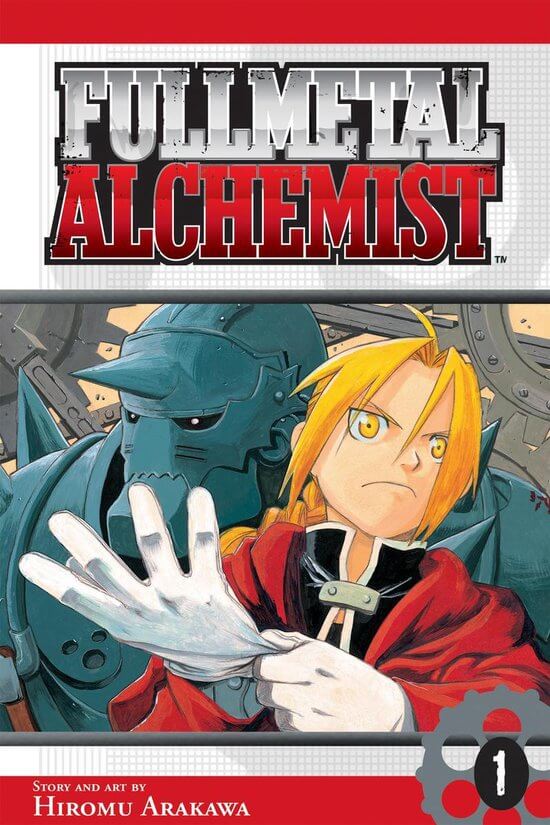 The Fullmetal Alchemist writer and illustrator is Hiromu Arakawa. The first release of the steampunk manga was in July 12, 2001 until July 2010, with a total of 108 chapters. This manga has sold over 80 million volumes worldwide, making it one of the highest-selling manga series.
Fullmetal alchemist also has an anime, films. video games, light novels and audio dramas. The popularity of this series goes through the roof, some argue this is the best Shōnen series ever.
Fullmetal Alchemist takes you on an adventure with the two brohters Edward Elric and Alphonse Elric. They live in a world of alchemy, and there are different kinds such as fire, ice, and combat alchemy.
The Elric brothers are looking for a way to restore their bodies. To clarify, Edward loses his arm and leg and Alphonse loses his whole body after a failed attempt of human transmutation.
Fullmetal Alchemist has a variety of action, darkness, humor, fantasy and the series shows just how much brothers are willing to sacrifice for one another. You also experience the seven deadly sins, in the form of a Homunculus.